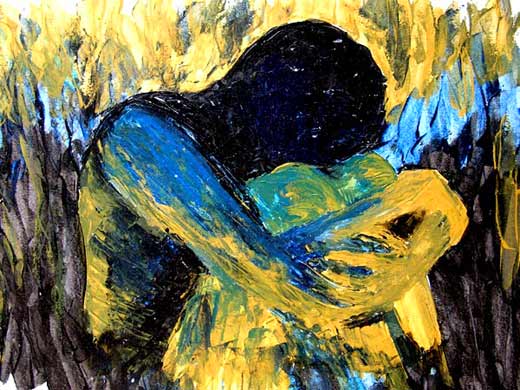 Nameless and Faceless By Ishrath Humairah
A-Day (Amputation Day) is this Wednesday November 19, 2014 at Noon. I suppose I am as ready as anyone can be who is making a conscious decision to cut off one of their legs just below the knee. Yea, I'm being Coy and trying to be cute and yes I know it really isn't my style. But what else do you say about this kind of thing?!
There are all the "right" things to say about being positive, having faith in a good outcome and saying this is all for the better. In my case those things are all basically true (at least MOST of the time). But in all honesty it is such a surreal experience to be having. I have been through a great many difficult times and have endured my fair share of chaos and hardship and this amputation surgery in many ways is just another experience.
Vincent Van Gogh
And then it isn't like anything that has ever happened to me either. Sure I put on a brave face but the truth is this frightens me some times when I think about it. I'm OK with that...there is nothing wrong with a healthy dose of fear and this kind of surgery certainly is a big enough deal to justify a few fearful moments now and again. I'd be more concerned if I wasn't afraid.
But this is truly the first step toward a new beginning. We have honestly exhausted all the realistic alternatives....6 surgeries in 15 months is enough. This will be surgery #7 for this ankle that was broken in a fall at home on February 9th, 2013. The nerves are damaged beyond all hope of recovery or repair. Having Neuropathy makes it even less likely that another Fusion Surgery would heal properly. Plus I have had an ongoing infection, more or less for the last year and a half.
Vincent Van Gogh
The time is now for a major move and Wednesday at Noon is when it's going to happen. I am ready to face the FEAR and fight for my freedom from this pain and torment. The day of RECKONING is here...at long last. And just in case the worst possible scenario happens I can honestly say that I gave this life my very best and that if it truly is my time to die that I died sober, with my family and friends I love theoretically by my side every step of the way.
I want to thank everyone who has reached out to me and my family through prayer or just let us know that you are thinking about us. Several individuals have helped us get through this difficult time with rides to the doctor's office 90 minutes away and in other ways that we will never EVER forget. My Friends are THE VERY BEST, God Bless ALL of you!
We will see you on the other side of Amputation. And then my focus will be on what type of art-work to have done on my prosthetic Leg...Modern or Impressionist!