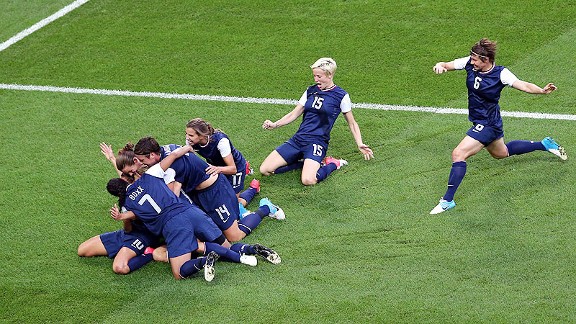 Photo:Ronald Martinez/Getty Images




The US Women's Soccer Team Avenges their loss a little over a year ago to Japan in the World Cup by beating them tonight 2-1 for the Gold Medal in the 2012 London Olympic Games!




It was a tough, hard fought game all the way through...But this time the US women did not let their guard down late in the game and Japan, despite furious attempts to score the equalizer in the last 20 minutes of the game could not find the net and the Americans win.




I played soccer for over a decade as a boy and a teenager and have always loved to play and watch the sport. It's popularity in the U.S. is growing like crazy now primarily because ESPN has treated soccer as an A-1 popular American Sport. More and more soccer games...professional and International are being shown on TV then ever before.




I think the US Women's Team's success has really fueled this popularity and this Gold Medal will just ADD TO IT.




So way to go Ladies....Olympic Gold Medal Winners London 2012!!!