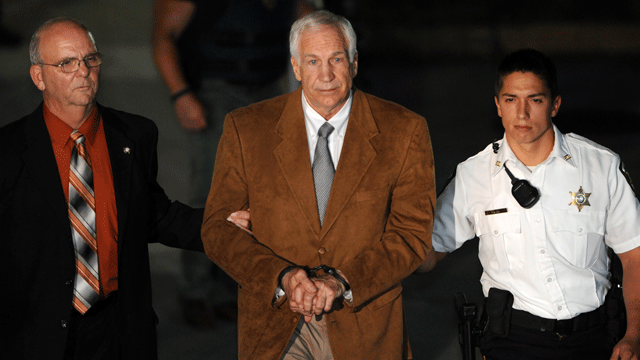 AP PHOTO
At first I wasn't going to comment about Jerry Sandusky and the fact that he was just found guilty on 45 of the 48 counts he was on trial for.
I did watch some of the news coverage and frankly it made me feel sick inside. As the Attorney General for Pennsylvania was speaking there was all sorts of clapping and cheering going on like the prosecution won some sort of football game.
Listen you dumb-sh*ts...NOBODY won anything in this horrifying mess, in fact..everybody loses. All the self-righteous media and the idiotic clappers in the crowd will all pretty much forget about this a few weeks from now but those boys won't. Oh sure...now they "get" to sue and become rich, some lawyer will convince them. Hey I'd love to be instantly wealthy again but I know from experience that no amount of $$ will make the nightmares go away...or the fear, the hurt and the SHAME.
They will be asked about this now until the day they die. In my heart I hope it helps them feel better, gives them a chance at a better life but deep down...I can't see it making any difference at all. Somehow I must believe that at least one but more likely more then one of those guys will die at his own hand or because of alcoholism or addiction.
I don't even know what to say about Sandusky...he's easy to hate, he is a monster clearly for what he did to those innocent boys. But I am not gonna judge him...GOD will do that. The man clearly is in denial, doesn't believe he did anything wrong....I hope he discovers TRUTH behind bars, it's never too late to change what you are inside. He has that and ONLY that to look forward to.
I go to bed tonight thinking about the guys he hurt...I'm reluctant to use the word victims because I hate using that term on myself but obviously that is what we all are. Still I think about what it must feel like to see the person who hurt you brought to justice like this. I no longer have the rage and hate inside of me towards the 3 men who attacked me but I would like to see them still brought to justice...to serve time but I no longer want them dead so badly that I would do it myself.
Anyway those are my thoughts tonight...I don't feel any better really...there will be more people just like him I'm afraid...it makes me shudder inside...and out.