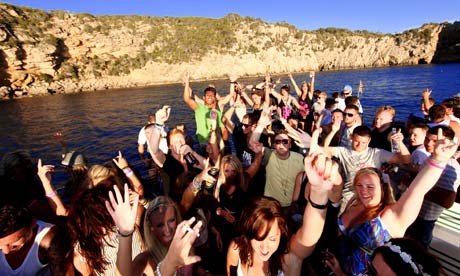 Today is one of those gorgeous, unspeakably beautiful days you think about in Michigan when it's the middle of January, -5 below zero with a foot and a half of snow on the ground and a 30 mile an hour wind. When you ask yourself how in your right mind do you explain ever wanting to live in such a god-forsaken place...well you think about amazing days like this: 82 degrees, no humidity, full sun and a light breeze coming in off the lake. Oh my...it's stunning.
Of course there is a downside. The KNUCKLE-HEADS are back...when you live in a Summer resort oriented area you deal with Knuckle-Heads...lot's of them (Summer-People). Drunk, loud, obnoxious, they spend thousands on golf carts and jet-skis so they don't have to EVER watch their kids...nope, the Knuckle-Head Spawn ride around all day, doing stupid dangerous stuff on the road (or in your yard) or on the water while the majority of their parents get hammered on booze, shoot off thousands of dollars of fie works and chase each others spouses around trying to fornicate...You think I'm kidding?! You're NAIVE...to say the least.
It would be (and sometimes is a little bit) funny if it wasn't so sick and dangerous and negligent....etc., etc. But obviously it changes the peaceful, serene surroundings of the island and the lake. Thankfully the worst of the shenanigans are limited to holidays and weekends for the most part so you can live with it. But this is the weekend before Memorial Day...most schools in Indiana are getting out and since a large proportion of the Summer Spawn are from Ft Wayne and Indy and we are 2 miles north of the Indiana border that impacts us in a big way. Next week will be worse simply because there is a 3 day weekend.
Until we meet again my friends....