It just seemed like a good day to write about something less heavy instead of the deep, difficult subjects that I have been writing and discussing here on Shell Shock. Sports and sport oriented subjects are always interesting to me so I figured, "why not, I'll write about sports...the Stanley Cup Finals are on, perhaps that's a light, happy topic". Particularly since I am a Detroit Red Wings fan I thought it would be cool to just post on two teams that I had no real passion for. Plus other then competitive, there was no negative intensity involved, right?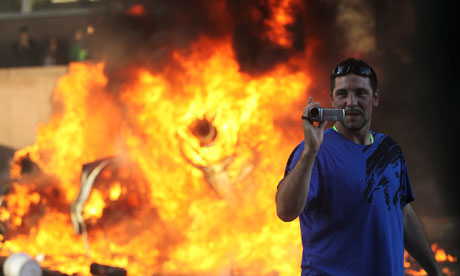 Reuters/Anthony Bolante-Photo
Uh, way wrong. The Vancouver Canucks play quite badly in Game 7, get spanked by the Boston Bruins 4-0 and the whole freakin' city of Vancouver goes "Dark Ages" on us. Now I never understood fans who rioted when their team won a championship but I don't really get this either.
AP Photo/Canadian Press Darryl Dyck
I think part of the issue was that there were 100,000 or so fans hanging around downtown, drinking, partying...just waiting in anticipation of their beloved Canucks to take them to the Promised Land: A Stanley Cup. Not only did that NOT happen but the game was over in the first period essentially (they play 3 20 minute periods in NHL Hockey) and they (fans) were humiliated by their teams pathetic performance. Instead of celebrating an awesome season of getting to the finals they explode in violence.
So much for my nice friendly morning sports post, eh? Well that idea got shot down in Flames. Well, I'll have to try harder this afternoon to come up with something better...