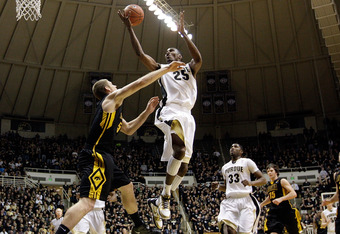 Big Game in the Big Ten tonight and televised on ESPN HD. Boilers @ Badgers...yep Purdue heads to Madison to play Wisconsin at home where they haven't lost all year. It's a super tough place to play yet the Boys In Black have fared well there over the years. They haven't won a signature Big Ten Game on the road though they did Beat Virginia Tech away during the ACC-Big Ten Challenge. A difficult road test even though Tech isn't currently ranked at 14-6 (4-3) ACC. Purdue/Wisconsin Match-Up
So this is an important game for Purdue. They currently trail Ohio State in the Big Ten race by 2 games and they host the Buckeyes either Feb. 19 or 20th TBA. So they are still in the hunt for the regular season title if someone can else can beat them and the Boilers pull the upset later this month. Of course the Boys in Black can't afford to lose another game for that to remain a possibility.
Honestly, in my opinion I think the title is out of reach...I don't see OSU coming back to the pack enough for it to happen because I see Purdue losing again, it's just damn difficult to not lose a few in this conference unless your truly a special team... And I think the Buckeyes are a special team. Anyway, I still see Purdue setting themselves up nicely for a Tourney run and really, that's what matters these days, isn't it?!
Now our Winter Storm Warning has been upgraded to a Blizzard Warning so perhaps, this is the real deal. We are supposed to get up to 20 inches or so total and the temp down in the single digits w/high winds...yep, that sounds pretty "Blizzard Like" to me!