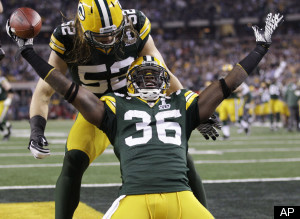 The Green Bay Packers played well enough at the end of the game last night to pull this one out 31-25. This game came down to Pittsburgh's final possession but alas, it wasn't meant to be for the Terrible Towel-ers this year.
What I have found interesting is that even though the game was close right until the end and the Steelers had a legitimate chance to take it down the field and win, it just wasn't that exciting for me. It seemed like I already knew the Pack was going to pull it out...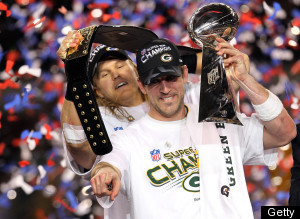 Oddly, that has been the scenario the last couple of years for Super Bowels. I'm not complaining because for a decade in the 1990's it seemed like the game was one blow out after another. This is by far more interesting but it's almost like you could predict it was going to happen.
I was watching the game with a friend and his wife and he was kidding around that certain plays were being fixed by the league to prevent it from being a Packer blowout. The old "conspiracy theory" stuff which I don't really believe but what I do find interesting is that it really COULD happen if the league wanted to do it.
And there is so much money involved in this whole Super Bowl Enterprise, I can't even venture a guess but the NFL is a 9 BILLION Dollar a year business so obviously there is a lot at stake.
And it does seem a tad "Fishy" that after years of lop sided games we now have games go down to the wire every year, hmmm. Perhaps my buddy Glenn is right and the fix was in, haha...
And now that I have that figured out I'm gonna go to work on the JFK assassination and get to the bottom of that whole mess...
Oh, How about that National Anthem...Ouch!
AP Photo